Schedule learners into rotations of varying lengths (e.g., 2, 4, or 8 weeks)

Schedule learners into granular clinical experiences (e.g., a half day in a clinic)

Optionally affiliate rotations, blocks, slots and bookings with sites and preceptors
Staff:admin users, program coordinators and faculty directors can access Admin > Clinical Experience and the Rotation Scheduler. Program coordinators and faculty directors will only see schedules, rotations, etc. for the courses they are associated with on a course's setup page.
Building and populating rotations is a multi-step process.
1. Build a rotation schedule which acts as a holding place for rotations. An example of a schedule might be a course and year (e.g., Internal Medicine, 2018-2019).
2. Build rotations within a schedule. Rotations include the various clinical experiences learners might have within your program (e.g., Rheumatology, Cardio Consults, Hematology, Infectious Disease, etc.). Within a rotation you can define sites and preceptors. For each rotation, you can upload files and optionally select to automatically send a standard rotation evaluation.

File upload and automatic trigger feature for rotation evaluations
3. Manage blocks within a rotation. These will be based on the block structures available to your course and curriculum period based on the System Settings configured by a user with administrator permissions. You can define sites and preceptors for a block.
4. Add and manage slots within a block. Within a slot you can define minimum and maximum number of participants, define sites and preceptors, and define availability for on service and off service learners.
5. Book learners into slots. (Import CSV option available to match learners to rotations in largest block size. The CSV import does not currently support sites nor preceptors.)
6. Schedule learners into granular clinical events as desired.
To learn more about how some schools have set up their clerkship schedules, Consortium participants can access micro-demonstration recordings about Longitudinal Integrated Clerkships and Clerkship Rotations in One Course
here
(collaborate.elentra.org account required).
Elentra is extremely flexible when it comes to assigning sites and preceptors to clinical experiences. If you add sites and preceptors to a rotation, it will create a quick pick pool of available sites and preceptors at the block and subsequent slot level. You will
additionally
be able to access other sites and preceptors as needed. This is in part designed to allow for last minute changes to schedules.
The system will also allow you to assign multiple sites and preceptors to a slot. When you book a learner into a slot with multiple sites/preceptors, you can optionally specify the exact site/preceptor they should be affiliated with or leave that for granular clinical events.
If you plan to use
Elentra's Lottery module
, you will need to create
slots with only one associated site
. This is so the lottery can apply the maximum occupancy limits.
In order to effectively use the rotation scheduler you should:
Optionally have sites defined (sites are the different locations relevant to your programs, like cities or hospitals). Sites have to be configured through

System Settings

by someone in an administrator role.
Navigate to Admin > Clinical Experiences.

Click the 'Rotation Schedule' tab under the Filter option card.

By default you will see all published and draft schedules you currently have permission to access.

If you see 'Available Off Service Rotations' listed at the bottom of the page, off service rotations created by other courses/programs have been made accessible to your course/program.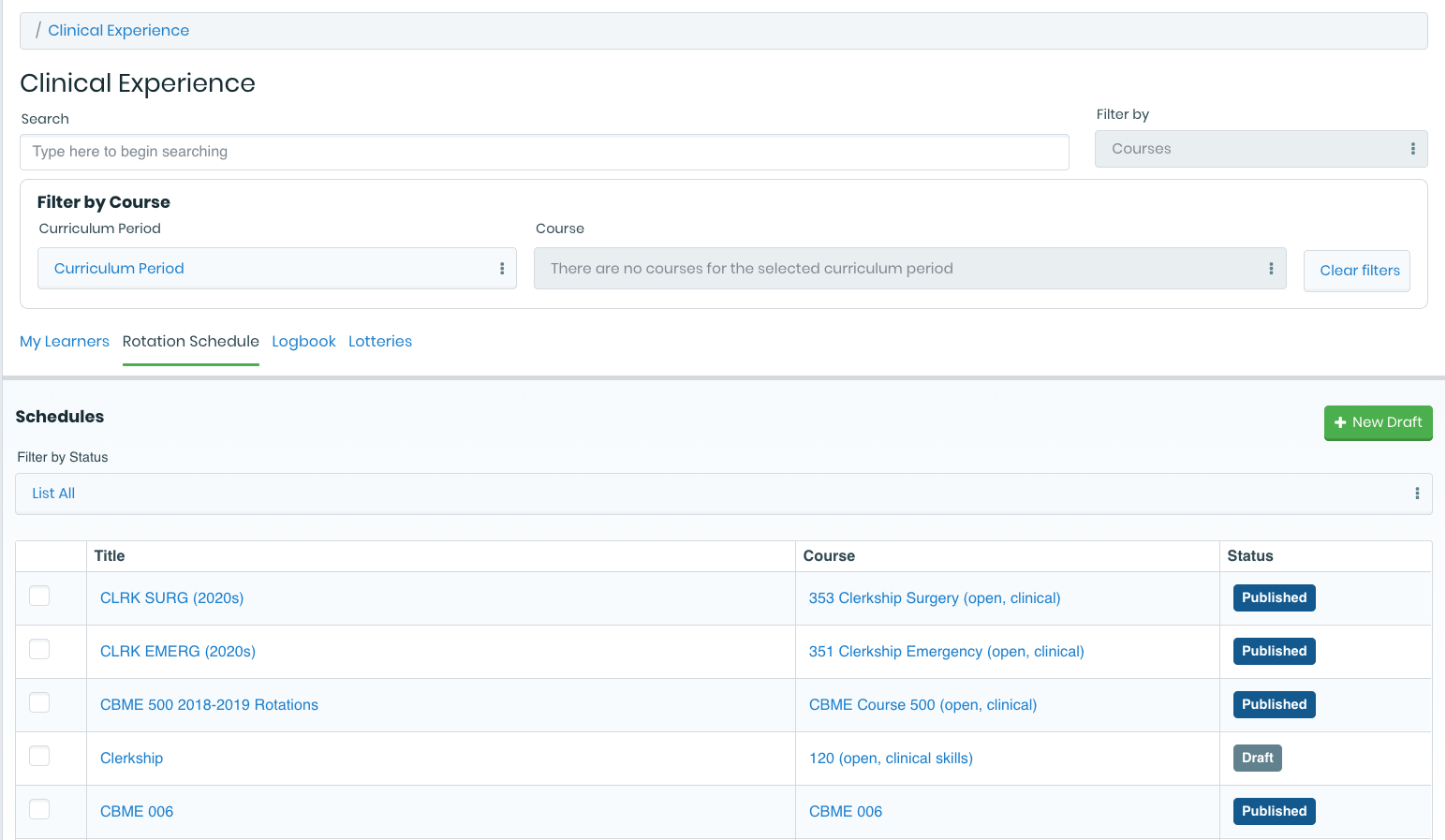 Interface for managing rotation schedules
clinical_event_approval_enabled

If you use granular clinical events, optionally allow for learners to confirm their attendance at events and have staff access an administrative view of that information. Disabled by default.

allow_program_coordinator_manage_booked_slots

Control whether program coordinators can delete slots that have off-service learners booked in them or make any changes to the slot spaces. Enabled by default.