Competency-Based Education
The tools to support competency-based education in Elentra were significantly updated in ME 1.24. Whereas users were previously restricted to a rigid curriculum structure to fit the requirements of Canadian post-graduate medical programs, the new Curriculum Framework Builder allow organizations to build a curriculum structure that suits their needs. Once this curriculum structure is populated with curriculum objectives, organizations can take advantage of the learner and program dashboards that were built to accompany CBME.
The CB(M)E module in Elentra is optional and is controlled through a database setting (setting: cbme_enabled).
With CBE enabled, an organization will be able to:
create one or more curriculum frameworks and populate organization and course trees (i.e., map a curriculum that includes objectives at multiple levels on multiple paths)

use supervisor, procedure, smart tag and field note form templates to create assessment forms users can initiate on demand (requires some developer assistance to configure workflows),

create rubric and periodic performance assessment (PPA) forms that are linked to the curriculum (can be used on-demand or sent via distributions),

monitor learner progress on a configurable learner dashboard (i.e., determine which curriculum tag sets display on dashboards),

create assessment plans to set assessment requirements for individual curriculum tags,

monitor learner progress towards assessment plans through a program dashboard, and

monitor learner performance and EPA task completion rates through optional visual summary dashboards.
In addition to these core tasks, users of CBE tools may opt to:
map CBE curriculum tags to specific rotations (requires that a program is using the Clinical Experience Rotation Schedule)

assign faculty members as competence committee members and academic advisors to provide them access to view specific learners,

and log meeting information for each learner.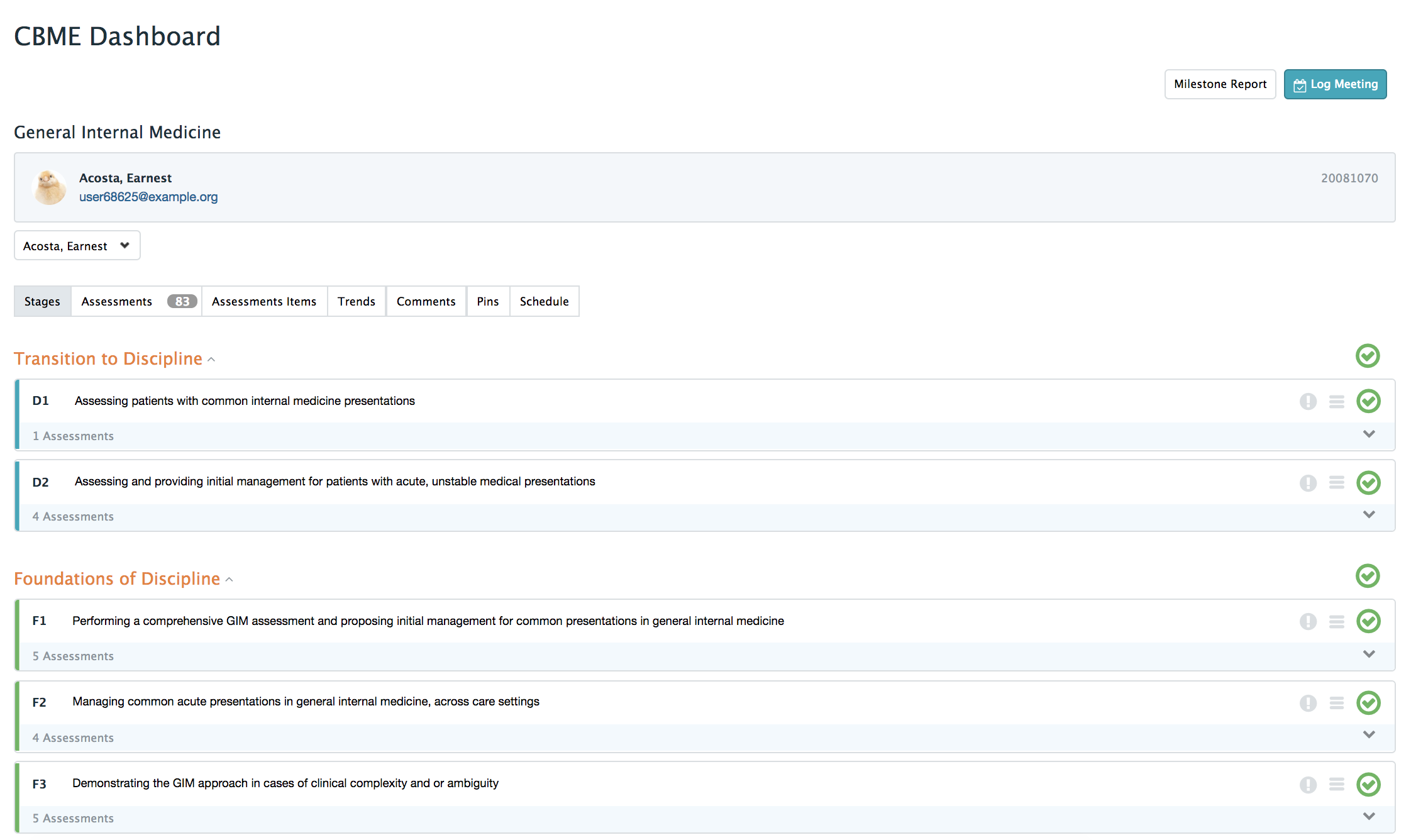 Sample of a learner CBME Dashboard as viewed by a Program Coordinator
Be aware that if you enable CBE in an organization,

learners will land on their CBE dashboard when they log into Elentra

. They still have access to the My Event Calendar but will have to click to view the calendar.

If your organization prefers that learners still land on their My Event Calendar tab when logging in, you'll need a developer to make that change for you.

With CBE enabled, learners land on the CBME Progress tab upon logging in
Faculty and staff users with access to My Learners will also experience a difference

because by default they will see a Program Dashboard view when accessing My Learners. If a CBE course does not have a CBE assessment plan set up, most of the Program Dashboard will be empty, however faculty and staff can still access a learner's assessments and logbook from their name card.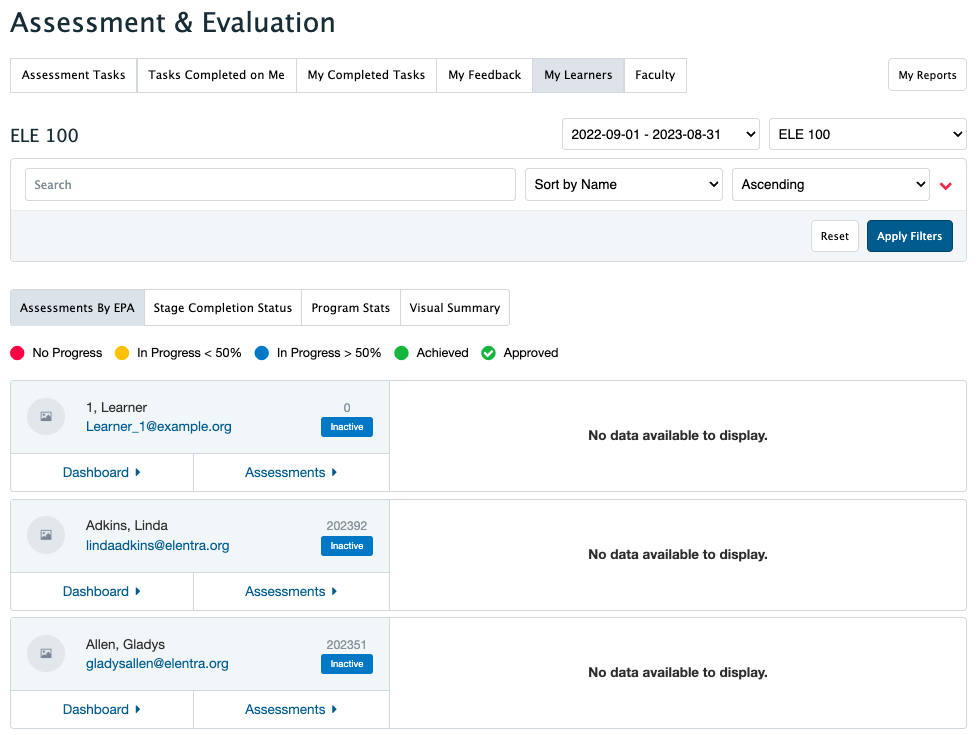 View of a Program Dashboard from My Learners
Controls whether an organization has CBME enabled or not.

cbme_standard_kc_ec_objectives

Controls whether you give courses/programs the option to upload program specific key and enabling competencies.

allow_course_director_manage_stage

Enable to allow course directors to manage learner stages (in addition to Competence Committee members).

allow_program_coordinator_manage_stage

Enable to allow program coordinators to manage learner stages (in addition to Competence Committee members).

cbme_memory_table_publish

cbme_enable_tree_aggregates

cbme_enable_tree_aggregate_build

Must have information entered for CBME to work. Set to

global_lu_objectives.objective_id

of the first stage of competence (e.g., Transition to Discipline)

cbme_enable_visual_summary

Enables additional views from program dashboard

cbe_versionable_root_default

Default versionable root for trees

cbe_tree_publish_values_per_query

Number of nodes to be inserted in bulk into a tree table

cbe_smart_tags_items_autoselect

Determines whether smart tag items should be pre-filled on trigger

cbe_smart_tags_add_associated_objectives

Adds the associated objectives item to smart tag forms on trigger

cbe_smart_tags_items_mandatory

Determines whether smart tag items are required

cbe_smart_tags_items_assessor_all_objectives_selectable

Determines whether assessors can view all smart tag objectives in the learner tree, rather than the objectives in the learner tree

cbe_smart_tags_items_target_all_objectives_selectable

Determines whether targets cal also see all selectable objectives, not just the ones applied via the Smart Tag form trigger process

cbe_smart_tags_items_all_objectives_selectable_override

Overrides the target and assessor *_all_objectives_selectable settings, if set

cbe_dashboard_allow_learner_self_assessment

Determines whether learners can provide a self-assessment on dashboard objectives

learner_access_to_status_history

Determines whether learners can see their status history; i.e the "epastatushistory page" where rating scale updates and advisor comments/files are displayed