Updated Learner Assessments (Aggregated) Report so that administrative staff running the report can optionally see commenter names (previously ticking that checkbox had no effect).
The Assessments Reports section mostly allows you to generate reports based on assessments
completed via distributions
. There are some exceptions, however most reports are for distributed forms.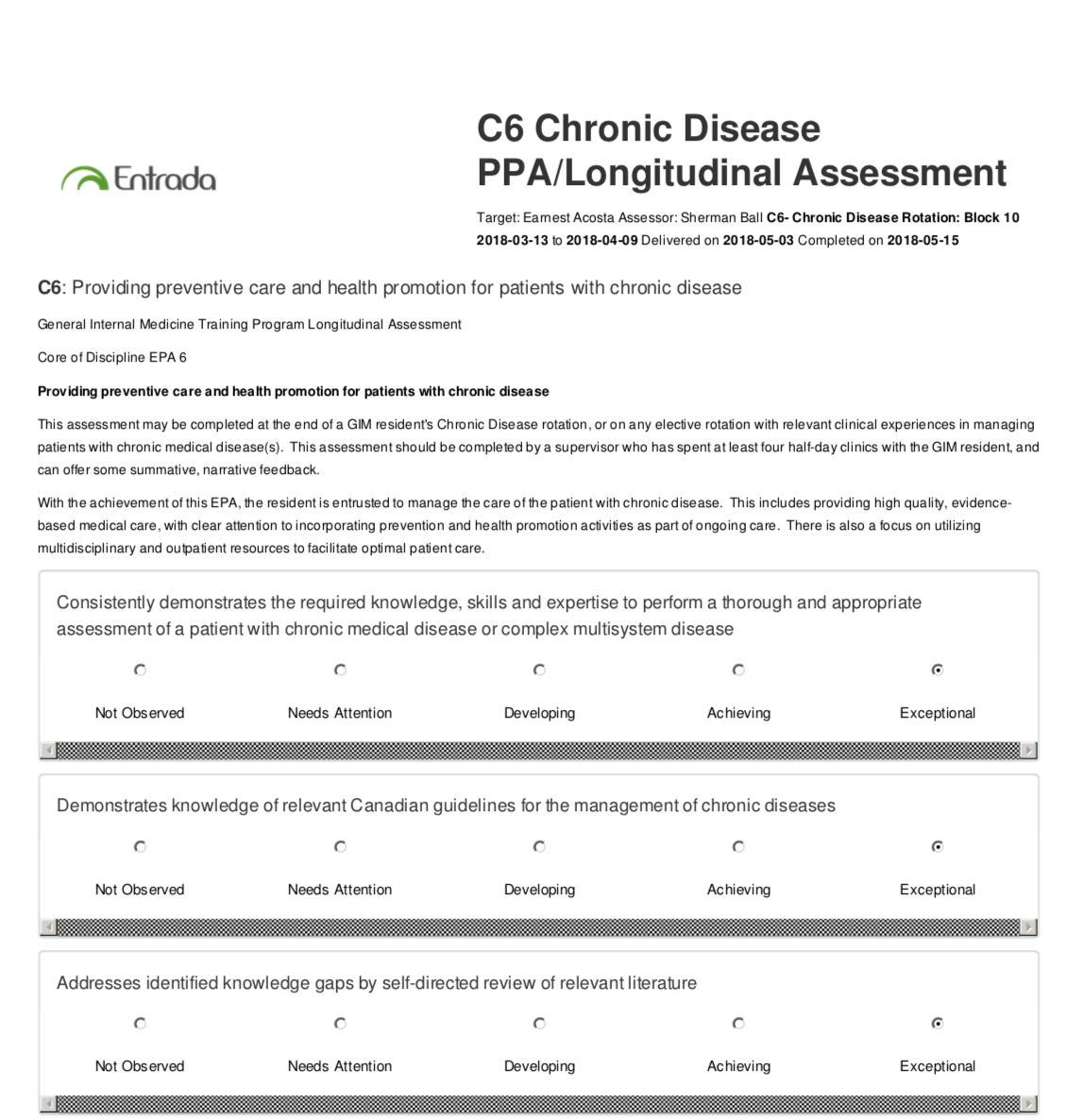 Sample form produced by Learner Assessments report
This report allows you to compile all assessments completed on a target in one or more courses into one or many files. It does not aggregate results, just compiles multiple forms.
Select a course, set a date range and select a course group (optional).

Select a form (optional).

Choose whether to download as one file (all forms will be stored in one file) or not (you'll download a file for each form).
A file will download to your computer with the appropriate forms included. Each form will include the target and assessor, delivery and completion date, form responses and comments, etc. The file names will be: learnerfirstname-learnerlastname-assessment-datereportrun-#.pdf. For example: earnest-acosta-assessment-20181005-1.pdf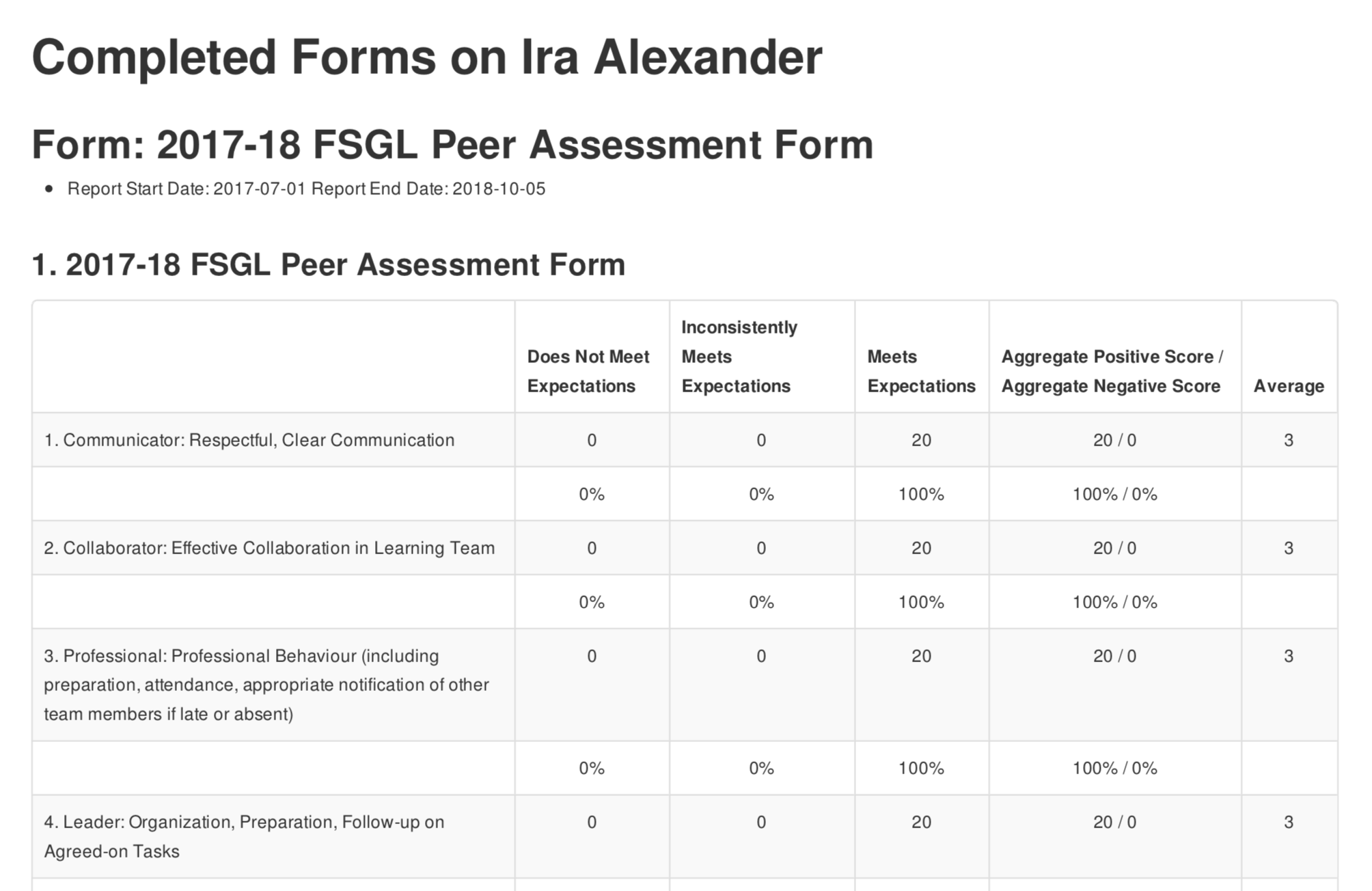 Use this report to create an aggregated report on learner performance on a single form that may have been used multiple times and completed by multiple assessors. For this report, the list of learners available will depend on someone's affiliation with a course/program if they are a staff:pcoordinator or faculty:director.
Set the report parameters regarding displaying comments and averages.

Include Comments - Check this to include any narrative comments from tasks included in the report.

Unique Commenter ID - Check this to identify the authors of comments using a unique code instead of the name.

Include Commenter Name - Check this to include the name of comment authors.

Include Description - Check this to include a narrative description that will display at the top of the report.

Include Average - Check this to include averages across each item. Note: This option assigns a numeric value to the item response options.

An average and aggregate positive and negative score are available with this report.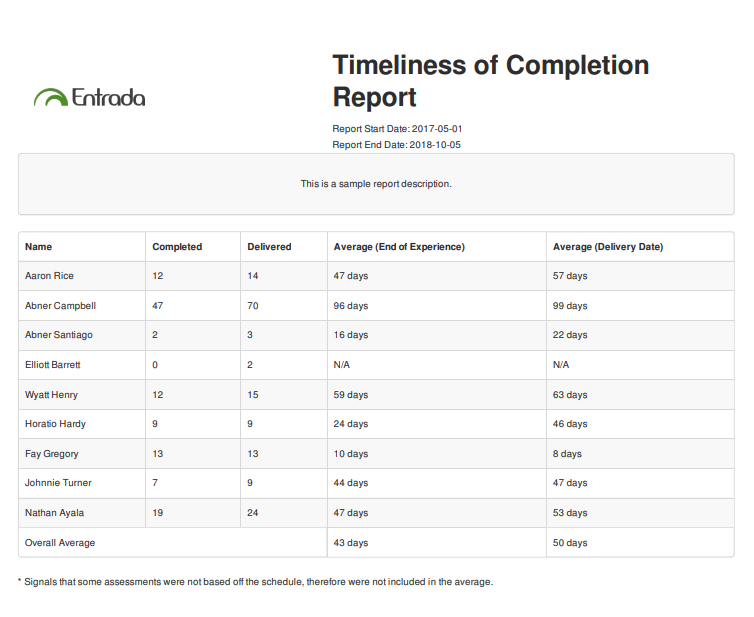 Sample Timeliness of Completion Report
For use in reporting on tasks delivered to and completed by faculty. Report columns include the number of tasks delivered and completed as well as the average time to completion from delivery date and average time to completion from the end of the experience (e.g., a block) per user. It also provides an overall average across all users. Available as a PDF or CSV.
If there were external assessors used you will have the option to include externals in the report or not.

Select one or more users by clicking the checkbox beside each required name. Please note that if you select all faculty it can take some time for all names to appear. Please be patient! To delete a user from the report click the 'x' beside the user's name.

Include Average Delivery Date: Enable this if desired.

Click 'Download PDF(s)' or 'Download CSV(s)'.

The report should download to your computer.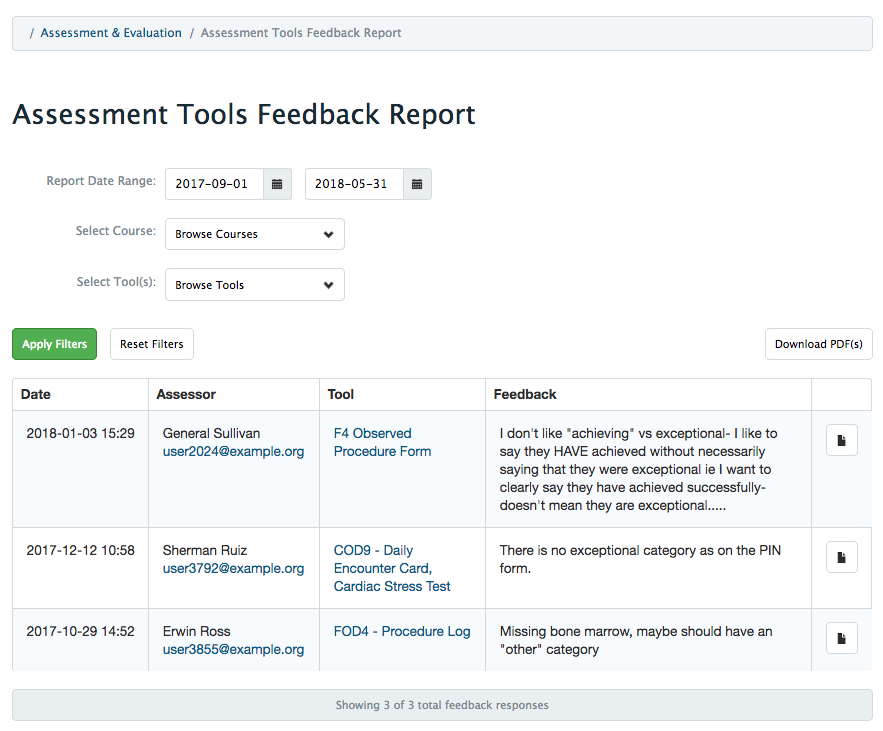 Sample Assessment Tools Feedback Report
For use in collating responses provided by faculty completing forms produced through form templates in the competency-based medical education module. This report aggregates comments from forms that are sent out using a distribution. When logged in as an admin. you'll see a full list of all form feedback provided thus far display on the screen.
Select a course from the dropdown options.

Select a tool from the dropdown options.

Results will display on the screen and you can click 'Download PDF(s)' if you need to download a copy.

To begin a new search be sure to click 'Reset Filters' and select a new course and/or tool as appropriate.
You can click on the page icon to the right of the feedback column to view the form being referenced.
An organization must be using the rotation scheduler to use this report. This report displays the number of completed assessments over the number of triggered assessments per block for all students in a course during the selected curriculum period. Data is grouped by block, based on the selected block type.
The learner is considered the target of the assessments.
Select a course (you can only select one).

Select a curriculum period.

Select a block template type (e.g. 1 week, 2 week). The block templates available will depend on the setup of the rotation schedule for the course.

Sample Completed Assessments Report
For use in monitoring the progress of faculty in completing the tasks assigned to them.
Decide whether or not to include External assessors. (This is only relevant if you allow users to send tasks to external assessors, e.g., users without an Elentra account.)

Select the relevant faculty (you can select more than one).

A csv file will download to your computer.
Generates one CSV file per tool (you can select multiple tools at the same time) and lists all completed instances of that tool across all learners within a custom date range. The report displays the encounter date, delivery date, and completed date for each form, as well as each form item and its associated response scale in the column header. If comments were entered for a selected response, they are included in a subsequent column. Users can opt to view only completed instances of a form or to view all instances of a form (pending, in progress, completed, and deleted).
Provides an inline overview or allows you to generate a CSV that displays all/selected assessment responses for a specified course, form, assessment status and date range.
Note that assessor and evaluator names
will
display in this report unless a form have been set as confidential.