Starting an Assessment On Demand
Learners can initiate assessments on demand from their dashboard. A learner's specific user interface will depend on whether or not they are a part of an organization with CBME enabled and/or workflows enabled, and whether they are responsible for any adhoc distributions.
From the main dashboard, click 'Start Assessment/Evaluation'.

Toggle between 'Start Assessment/Evaluation' and 'Adhoc Distributions' as needed.

Start Assessment/Evaluation should be used for any CBME or workflow forms.

Adhoc Distributions should be used if a distribution was set up that requires the learner to initiate a task to send to faculty.
Start Assessment/Evaluation
From the Dashboard, learners have access to a green 'Start Assessment/Evaluation' button on the right side of the screen.

Learner Dashboard from which to start assessment/evaluation
If workflows are in use a learner will select an On-Demand Workflow. This will dictate which forms become available to select. If None is the only available workflow option, select None and continue.
In this example, we'll select an EPA form to complete.

Selecting an on-demand workflow
After selecting an on-demand workflow, the choices a learner has will depend on the workflow they are completing.
Next learners select an assessor. They can begin to type a name to limit the list of options. When they mouse over a faculty name, learners can see the faculty card including their name and photo (if uploaded).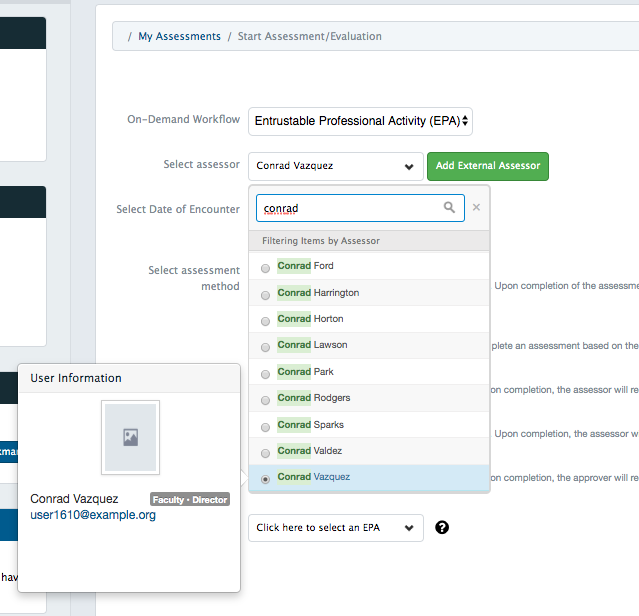 If learners need to add an external assessor (someone who doesn't have an Elentra account), they can click 'Add External Assessor'. (Please note that allowing learners to add external assessors is a
database setting you can optionally enable or disable for an organization
. If you don't see the option for learners to add an external assessor and you'd like them to be able to, ask a developer to enable cbme_ondemand_start_assessment_add_assessor in the settings table.)
Next, learners set a date of encounter.
Next, learners select an assessment method. Details about each assessment method are provided inline.

Note that an assessor
must have a PIN setup
for learners to select the first option. For more detail on setting user PINs see
here
.
In our example, completing an EPA form, learners next select an EPA to be assessed on.
For a reminder on what is included in a specific EPA the black question mark provides a quick link to the EPA Encyclopedia.
Users can easily navigate the list of EPAs by applying preset filters including Current Stage EPAs, Current Rotation EPAs, and Priority EPAs. Click on a filter title to apply it. In this example the Priority EPAs filter is being applied.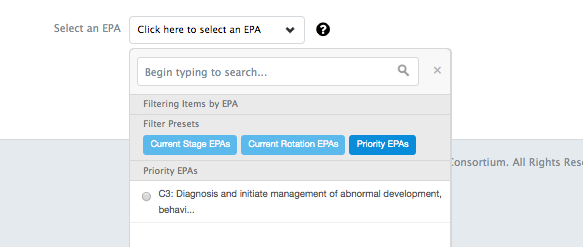 After an EPA is selected, the available assessment tools will be displayed. Learners can search the tools by beginning to type in the search bar. Note the small clock in the top right of each tool card. This is an estimate of how long the form will take to complete based on the experience of other users.

Learners can click 'Preview This Form' to view the form and ensure it is the one they want or they can click 'Begin Assessment' on any tool to begin.
Depending on the selected method of assessment, learners will either be directed to the assessment form to start it, or the form will be sent directly to the assessor.
Select a distribution (learners will only see distributions for which they are a target).

Select an assessment method.

The assessment methods available to the learner can be controlled in the database settings table to offer maximum flexibility.

If an adhoc distribution has been set for a summary assessment task and there is not yet enough data to complete the task, the learner will not be able to initiate the task.

If adhoc distribution is completed via PIN

and

is a summary assessment task, the assessor will have to enter their PIN

before

the learner can view the form (this is so the learner is with a faculty member when they view feedback from others).

Enter a date of encounter.

Depending on the selected method of assessment, learners will either be directed to the assessment form to start it, or the form will be sent directly to the assessor.
If a learner has initiated a task to send to an assessor, the timing of its delivery is controlled by a behind the scenes task called a cron job. Typically the default setup is for the cron job (send-queued-notifications) to run every 10 minutes. This means if a learner initiates a task using the complete and confirm via email method at 8:30, the assessor might not receive the task until 8:40. If this timing should be adjusted, you must speak with a developer at your institution.